Current News
April 19, 2020, A statement on behalf of Peter Beard's family:
"We are all heartbroken by the confirmation of our beloved Peter's death. We want to express our deep gratitude to the East Hampton police and all who aided them in their search, and also to thank the many friends of Peter and our family who have sent messages of love and support during these dark days."
"Peter was an extraordinary man who led an exceptional life. He lived life to the fullest; he squeezed every drop out of every day. He was relentless in his passion for nature, unvarnished and unsentimental but utterly authentic always. He was an intrepid explorer, unfailingly generous, charismatic, and discerning. Peter defined what it means to be open: open to new ideas, new encounters, new people, new ways of living and being. Always insatiably curious, he pursued his passions without restraints and perceived reality through a unique lens. Anyone who spent time in his company was swept up by his enthusiasm and his energy. He was a pioneering contemporary artist who was decades ahead of his time in his efforts to sound the alarm about environmental damage. His visual acuity and elemental understanding of the natural environment was fostered by his long stays in the bush and the "wild-deer-ness" he loved and defended. He died where he lived: in nature."
"We will miss him every day."
---
Taschen, Peter Beard, Multilingual Edition published in English, French, and German, available March 31, 2020 in Europe, and April 30, 2020 for the United States and the rest of the world.

In 2006, TASCHEN first published the book that has come to define his oeuvre, signed by the artist and published in two volumes. It sold out instantly and became a highly sought-after collector's item. In the decade since, the monograph has been revived in three smaller versions: 2008, 2013, and now 2020.
Now available a 4th edition in one volume.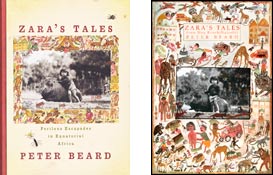 Zara's Tales now back in print. Available March 20, 2020.
Zara's Tales poster – signed limited edition.
Peter Beard has written and illustrated tales he told to his daughter at Hog Ranch, Kenya, about life, about living, about Africa.


---
Information

General Inquiries,
Authentication of Original Artworks

Tel. 212-929-5153
info@peterbeard.com

Licensing & Reproductions

Art + Commerce,
531 West 25th Street
NY, New York 10001
Tel. 212-206-0737

imagearchive@artandcommerce.com
artandcommerce.com

Artists Rights Society
536 Broadway, 5th floor
New York, NY 10012
Tel. 212-420-9160

Administration

Executive Director, Nejma Beard

Assistant to Nejma Beard, Samantha Bogner

Archivists

Jill Bloomer, jill@peterbeard.com
Samantha Bogner, sam@peterbeard.com

Assistant to Peter Beard, Zara Beard

Sales